Wuma Taitung Leisure Farm
Located in the valley of Yaoshan Mountain, at Zhiben, Taitung, the property covers not only a large area but also a glamorous landscape of various ecological environments, such as the ever-changing Formosan Gum forest and the stunning sodium bicarbonate spring. We welcome you to our farm, a refuge for mind and soul.
Ecological FarmOut of the respect for Mother Nature, we minimize construction and develop agroforestry to preserve the native species and provide wild-life a safer habitat. Our way of fitting into the existing eco system with multiple organic farming brings plentiful harvest of herbs, vegetables and fruits.
Six Senses Wuma ResortWe partnered with Six Senses, the hotel management group, and the Japanese architect, Kengo Kuma, to deliver this premier mountain resort. Six Senses is a world-renowned luxury hotel, resort, and spa. It pursues the philosophy of "Slow Life" and inspires customers with natural landscape, local culture, organic food, and spirit sublimation. Kengo Kuma has received numerus awards from Japan, Italy, Finland and around the world. His work displays rich Japanese / oriental Zen senses and a respect for nature. His idea is to make architecture supplementary to the larger environment instead of dominating the land.
Eco-Environment
We maintain the existing forest's physiognomy with low-intensity land-use and agroforestry. This aims for simultaneously bringing multiple crops and preserving the habitat of original species. By keeping a balance between development and ecological environment, our farm remains rich in biodiversity. You can see Muller's Barbet and eagle fling, Formosan macaque, Reeves's muntjac, and squirrel running through the trees during the daytime and you may also encounter frog, firefly, and owl in the night. These ecologies make our farm a wonderful place for children's eco-education.
Our Crops
We grow multiple crops with ecological farming. The strategy does not only sustain the biodiversity but also enables the land to better adapt to climate changes. Currently, we grow tea, coffee, herbs, Roselle, Ramtilla, Plum, Stout Camphor tree etc. on the farm.
Roselle
Roselle has long been used in health-supporting drinks and as food ingredients. Our hillside Roselle is bathed in mountain wind and sea salt. We collect the scarlet calyx at the appropriate times of the year and strictly control all the process, from collecting, cleaning, roasting, and sealing, for exceptional freshness to be delivered to you.

For purchasing service, please dial: +886-2-2218-8678 #1506
Taiwan Native Ramtilla
Ramtilla tea is a warm, herbal beverage prepared from dried Ramtilla flowers.
We carefully hand-picked the best Taiwan Native Ramtilla blossom in the severe winter and dried it at low-temperature to preserve nutrition.
The Ramtilla tea has a delicate floral aroma and a light, honey-like taste. It could be combined with tea leaves or honey, or also could be used as a cooking ingredient to spice the dish with floral flavors.

For purchasing service, please dial: +886-2-2218-8678 #1506
Six Senses Wuma Resort
Kengo Kuma, the master of "Weak Architecture", believes that architecture should be immersed into the environment's background, thus gives prominence to beautiful nature and surrounding landscape. Here in Six Senses Wuma resort, Kuma utilizes natural / local materials such as wood and stone to combine with water, light, and air specifically for each location. For his approach is that architecture retains its cultural role and be close to people's mind.

The design stage has been finished; Six Senses Wuma Resort is underway!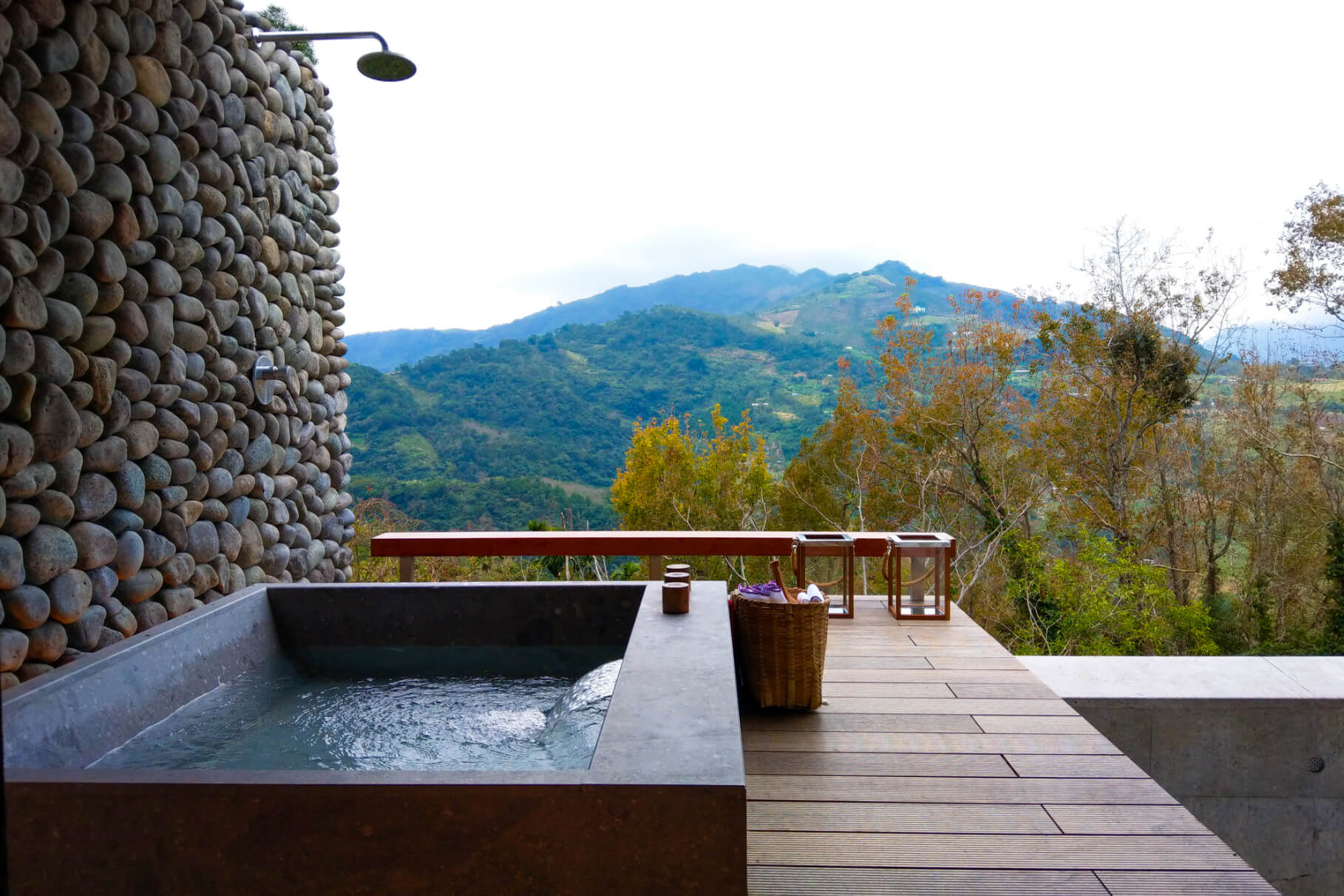 Hot Spring
In Six Senses Wuma Resort, you can feel like a cloud floating by and listen to the sound of wind whispering through the trees. You can also sink into the sodium bicarbonate spring to ease your body and mind, releasing the pressure and enjoy the luxury of natural surroundings.